Boy, is it ever!

Part 1
H
ave you heard that Chicago has the world's largest population outside of Warsaw? Yesterday I had the wonderful opportunity to meet a great number of them when I sang at the Polish Museum here in town. And you'll never believe how this 'gig' came to be! Flashback to last Sunday. M and I were walking with the dogs in a new park when Jasper & Lola met with a funny-looking fat pug. The pug was there with an old woman who began talking with us, and didn't stop for about an hour! I stood there in attentive amusement because she was talking so fast, so animated, so charming, yet I could only understand about 30% of what she was saying! What I did gather is that Hanna had lived in our apartment building on the second floor for 25 years before our landlord kicked her out for refusing to let him work on her apartment. What a coincidence! I also gathered that she was a poet and would be reading some special poems she'd written for a Mother's Day concert at the
Polish Museum
. She was ranting and raving about how difficult it is to work with musicians and how she wasn't sure her singers would show up because they never call her back, (though, she doesn't have an answering machine, so how would she know if they were calling?) So then she said, "Maybe you come sing" and I gave her my number thinking, "She won't remember it," and "she won't call." Surprisingly, she did call and I agreed to come sing the Ave Maria for the concert. A strange way to get a singing gig, but with my posse out of town I couldn't think of a better thing to do on Mother's Day than singing an ode to the Mother of God.
Part 2
I
know Italians, I am Italian, but I have not one ounce of Polish blood. Poles are closer to Italians than I ever realized before, as I learned yesterday. They are both infinitely hospitable. They will talk to strangers as though they are old friends. They love to eat- food is a central part of any event. I also learned that Hanna's sense of time is an Italian sense of time: whenever I'm ready is when we go. Forget that our ride showed up on time (he must have been German!) at 1:15. Forget that the event started at 3. At 2:00 Hanna was still trying to fit into a dress and freaking out because she'd gained weight. Meanwhile, I was waiting on the street corner thinking, "I may not make it to the Museum today..." When they finally drove up, Hanna was nearly in tears, repeating "Don't look at me, don't look at me!" Again, feeling a little belly heavy. Harry, our elderly driver trying to calm her, "She won't look at you, okay? Just get in!" I thought she looked lovely. Harry got us to the museum and dropped Hanna at the back door so that no one would see her before she got her make up on. I met with the pianist, but it was still unclear to me how many songs Hanna wanted me to sing; she'd asked me to bring three.
S
o apparently Poles don't plan very well- just like my Italian family! Besides the fact that I could pass as a Pole, I felt as though I was in another world- a different country perhaps! No one was speaking English, and many times in her frantic stress-induced state, Hanna would look me straight in the eye and spout of two or three minutes of pure Polish as though I could understand.
Part 3
The event began promptly.... at 3:20.... with a good 45 minutes of Polish introductions and recitation of poems. Then the piano students of my accompanist gave a beautiful performance of Chopin's music... finally a language I understood! One boy in particular stood out as quite a prodigy and I was mesmerized by his flawless and incredibly musical interpretation of a challenging Chopin piece that I struggle to play well. He was 14 years old. When it was time for me to sing, I had to get up and say a few words about myself- in English.... So that felt weird and was received with mixed feelings, but after I sang I instantly gained about 100 friends. They loved the Ave Maria! Well, who doesn't? It's a beautiful piece of music, but there is something about the deep devotion to their faith that made the song so much more meaningful to them. And after the concert was over, of course, we all partook of an amazing feast of (you guessed it) sausage, cheese, bread, some unidentifiable goodies, and fruit. One of my favorite moments of the day? When Hanna grabbed a giant smoked sausage, broke it in half, and handed me a piece. I kept thinking there may have been hidden cameras somewhere because the entire situation, from the initial meeting to the concert and after party, seemed like a scene from a funny movie.... "My Big Fat Polish Party" maybe? One thing's for sure. I'm a fan of the Polish people, now and always. They are some of the most welcoming, charming, feisty, happy, lovely people I've encountered in a while. Hanna kept telling people God sent me to her in the park.... perhaps?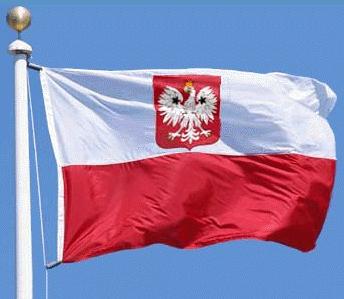 Długi Żyć Polska!