So here it is, folks... our starter home!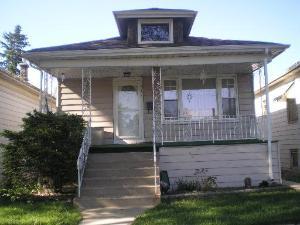 We have big plans for the exterior, as you may remember from previous posts. We would like to paint the house a darker color, maybe blue or gray. I can't wait to plant new bushes, with flowers! And maybe make a beautiful stone flower bed. *sigh*
As for the interior, that project has already begun and is in phase 1:
If you haven't seen what it looked like before, here is a little photo from the house's original listing:
Doesn't it seem to say "RUN! DON'T WALK!" But we saw its potential.
The hideous wood paneling was the first thing we decided to say "hasta la vista, baby" to. The beams on the ceiling were decorative, and in between them, the white sections of ceiling were cheap fake wood pieces, too! So we ditched them. (And by "we" I mean my amazing hubby and his overwhelmingly generous friends!) I'm sure that with drywall, more subtle light fixtures and a nice, warm paint color the room will open right up and look beautiful! Oh, and did I mention there are wood floors under the carpet? Bonus!
Speaking of paint, I've been thinking about this

A L-OT.
For the living room, I really would like to paint the walls something neutral and warm but not yellow. What do you think of this color? It's called "Cozy Cottage!"
With white crown moulding, I think it would look modern and classy, warm and inviting.
I'm pretty attached to a color like this for the kitchen:
And for my music room (yes, I will have a music room!) I desperately want to use purple, but I don't know if I have the guts!
Updates to follow... giggle, giggle giggle.